How to sell a product/service using SEO, a step-by-step guide including a real life example.
Almost 95% of all keywords relating to buying products and services in the market are saturated, meaning, they rank high in google search, leaving no chance for your product or service page to outrank them.
We won't look at those, we'll focus instead on the untapped 5% keywords.
First, you need a keyword research tool such as ahrefs. In this thread i am going to use ahrefs.
If you don't have a paid plan with ahrefs, you can start a 7-day free trial, so no need to pay now.
You need ahrefs to identify the 5% untapped keywords for your product/service.
In ahrefs Keyword Explorer tool, type a commercial keyword for your product/service.
What is a commerical keyword?
A keyword that a user searches for with the intent of buying now, meaning, at the time of search.
That potential customer has already decided to make a purchase.
If you're selling a product, you will be competing on the top most section of google search, where a carousel of similar products appears, whether those are paid shopping ads, or free google product listings.
PS: products are aggressively pushed by paid google shopping ads.
If you're selling a service, it looks easier for you in google, because you won't normally see a carousel of products on top.
You're probably going to see a local listing/map of businesses providing this service.
And just below this section, you'll see landing pages.
You do not have to worry about that, because when you choose the untapped 5% of keywords later on in this thread, you'll find a less competitive SERP (Search Engine Results Page).
More on that down further in the article.
Remember, our goal is to target untapped keywords.
Going back to ahrefs Keyword Explorer, let's type together a commercial keyword for a specific product.
This keyword should be a seed keyword.
What is a seed keyword?
A usually one or two-word keyword, such as "coffee mug".
We'll continue the article for this product.
"Coffee mug" as a seed word is too generic, very high in Search Volume (SV): searched thousands or hundreds of thousands of time every month, not by unique users, meaning you can make 5 searches per month for that seed keyword, and it counts 5 searches.
"Coffee mug" also has a very high Traffic Potential (TP): generates a high number of clicks. But as you will notice in ahrefs, the Keyword Difficulty (KD): is very high for that seed keyword.
This is where we need to start our journey looking for the untapped keywords.
To put this visually, this is how Keyword Explorer looks in ahrefs for the seed keyword "coffee mug" in the United States (the metrics differ from one country to another):
KD: 39 (relatively medium difficulty)
Volume: 42K (relatively medium)
TP: 1K (relatively low)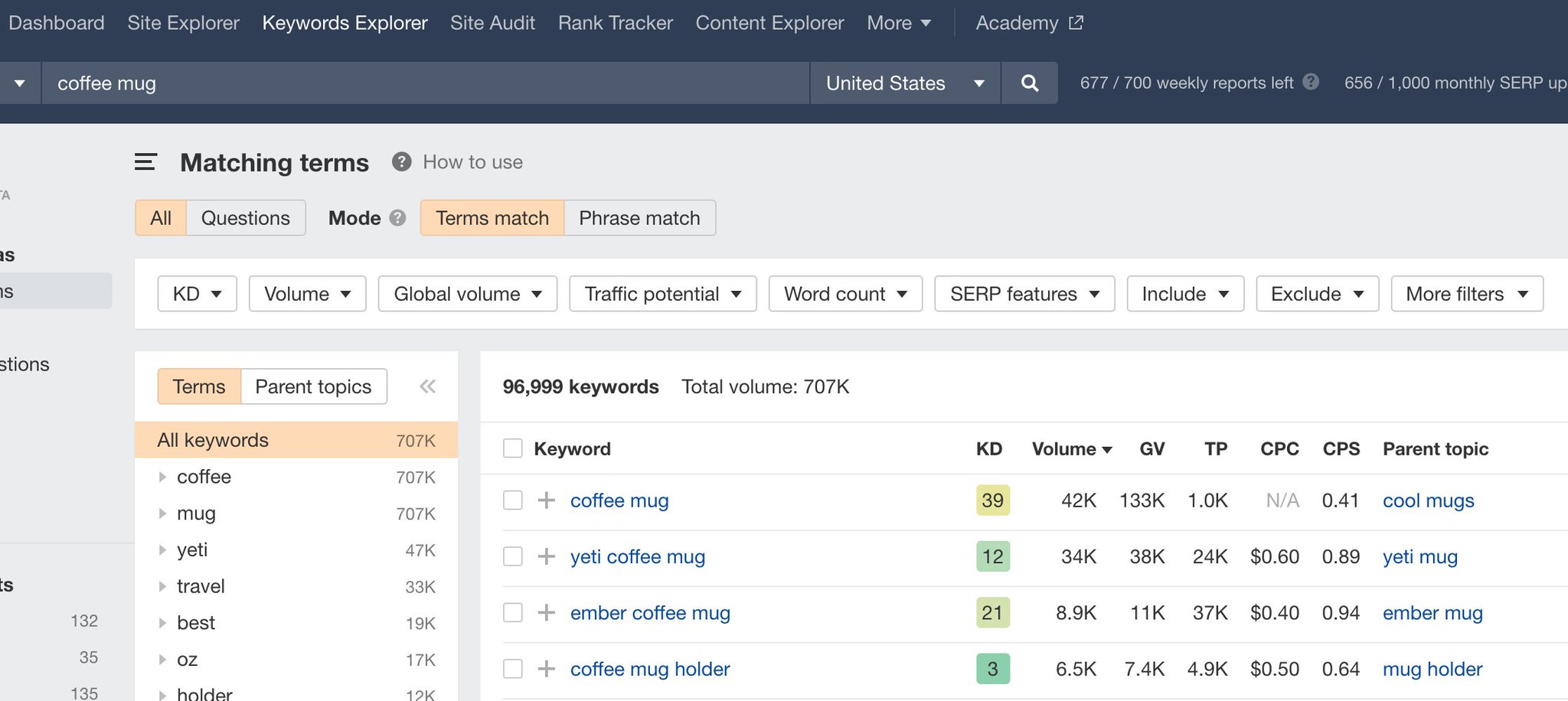 According to ahrefs, to rank a webpage for "coffee mug" in the United States, you'll need backlinks coming from approximately 53 websites in order for your page to rank on Page 1 of Google.
This is just an estimate, and it is not always true, I've ranked pages with 0 backlinks.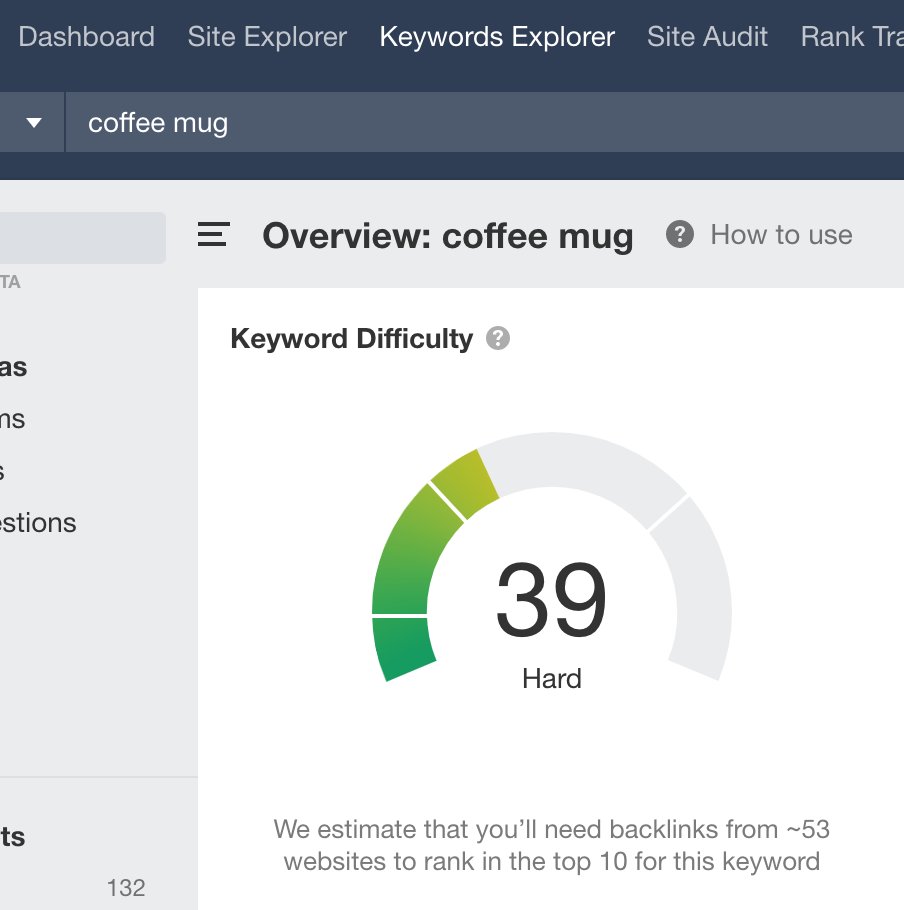 What is a backlink (for those who don't know)?
A backlink happens when a website links back to your webpage.
This website better not be a social media page, because backlinks from social media are NoFollow links.
NoFollow links get you traffic, but will not help with ranking.
This doesn't mean that backlinks from websites are always DoFollow, in fact most business directory websites linking to your business website are also NoFollow links.
So, you'll need to get backlinks from websites which mark your link as DoFollow.
"coffee mug" having a KD=39 sits nicely under the 95% of keywords that are saturated, and it is pretty hard to rank your page for that keyword.
This is where you need to niche down to a relatively easier keyword (KD<10), with decent search volume, and high traffic potential.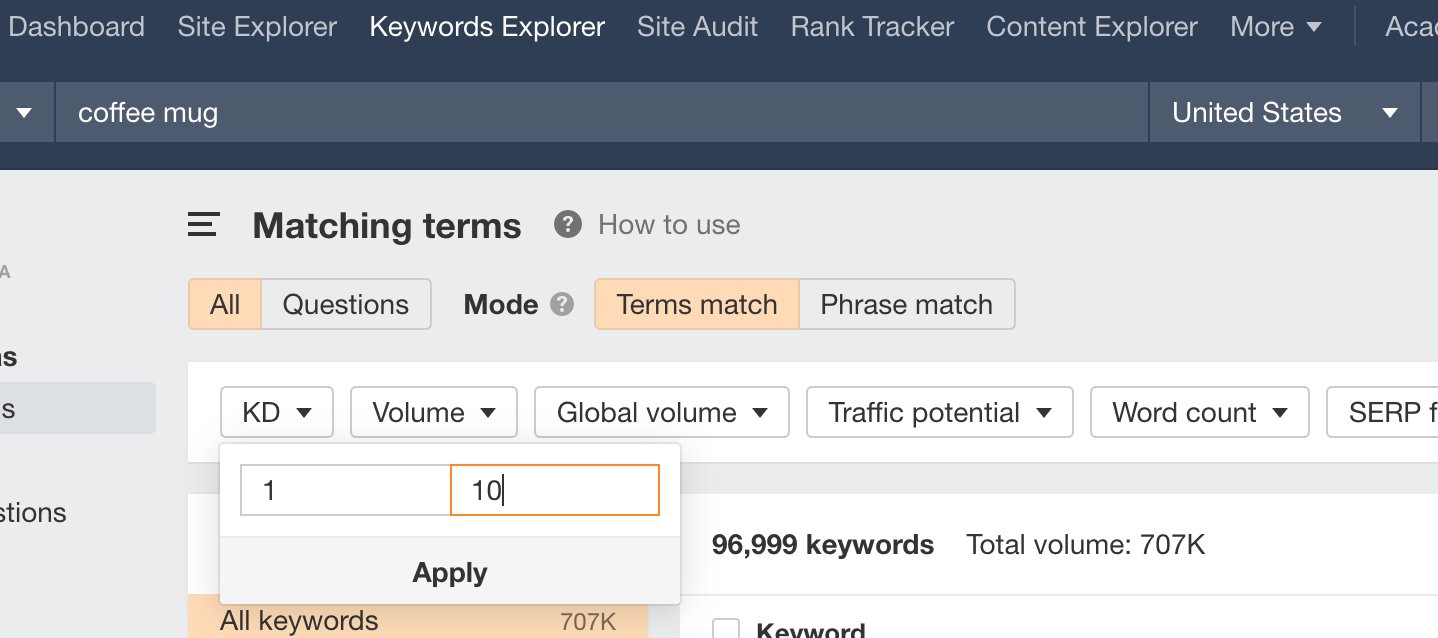 Notice when we filtered the 99,000 keywords above to a KD between 1-10 the number of keywords went down to around 1,000 keywords.
Notice the 5th keyword "heated travel coffee mug" has a:
KD=10 (relatively easy)

Volume= 30 (relatively low)

Traffic Potential: 350 (decent)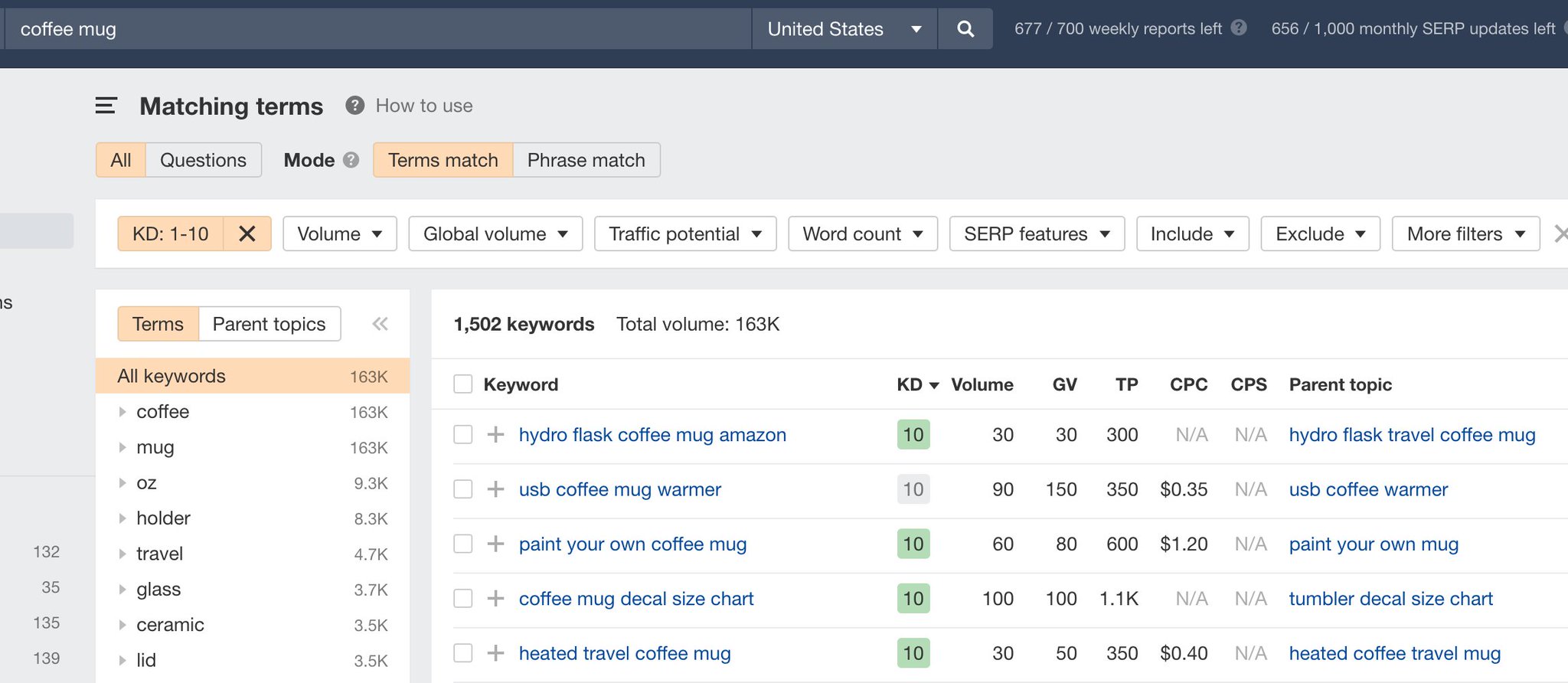 So we've come down to an easy keyword, with few searches per month, and a decent traffic potential.
This keyword "heated travel coffee mug" is a long-tail keyword (3 or more words), meaning, not so many search for this keyword on Google, but it's more specific than "coffee mug".
If you are satisfied with this keyword, you'll have to move on to creating your webpage.
But first,
Would you create a product page, or a blog post?
Let's see what the SERPs say in that case.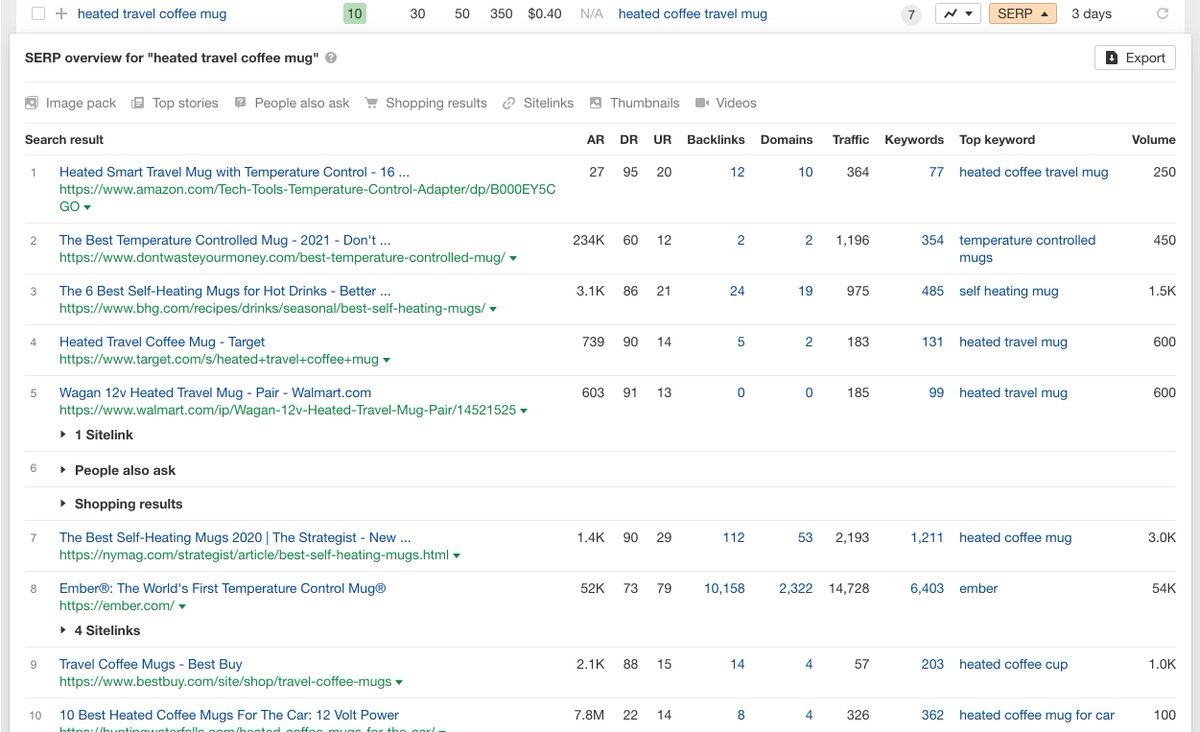 Without getting into each search result, from the page titles above, you'll notice there are 6 or 7 blog posts ranking in top 10 talking about the best heated travel coffee mugs.
This means, in order to rank in top 10, you will have to create a blog post, a comparison post.
Going back to backlinks, you'll notice the 2nd top ranked page has only 2 backlinks, so if you're starting a webpage with 0 backlinks, you still have a chance to outrank that page, if you do a better job in content.
Let's analyse this 2nd top page and see what they've done.

Clearly, it's a comparison blog post as shown below. In order for your page to outrank this long comparison blog post, rich in text, you'll have to create a better one.
What does a better page mean?
Let's dissect this page in ahrefs next.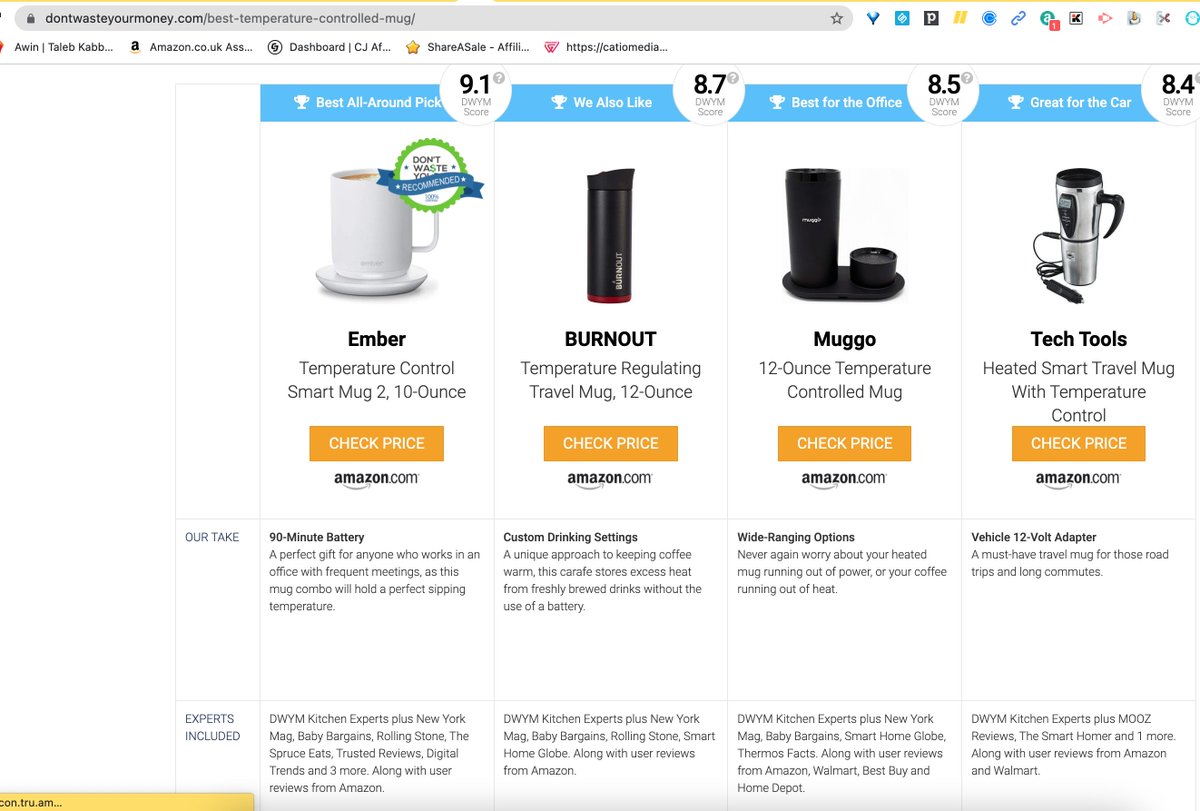 In ahrefs under Site Explorer, plug in the page's URL to see what we can learn about that page in particular, and how we can outrank it.

This page when analysed in Site Explorer, has lots of metrics to study thoroughly.
First, it ranks for 398 keywords and drives on average 716 visits from Organic Search per month.
The page was published around July 2021, and it has a DR=61 (Domain Rating or Authority).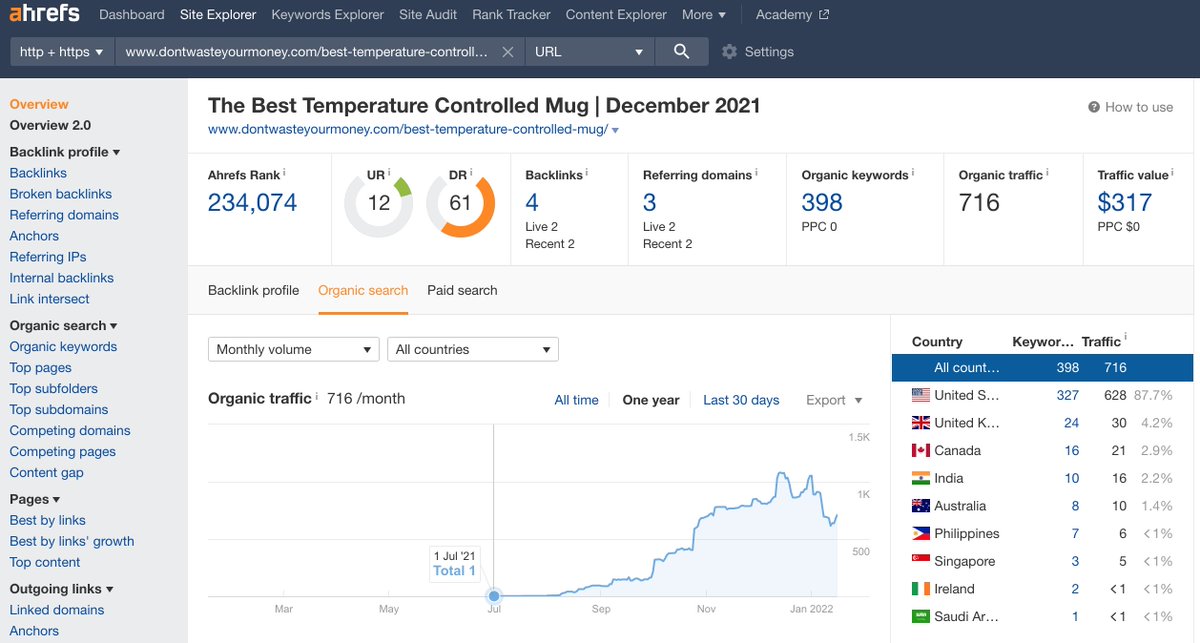 If you're starting your website today, you'll have a DR=0, and this DR is just a vanity metric, as I've ranked pages with DR=0 before. But a DR=61 means they have enough authority to rank.
But don't bother much about it.
Let's look at the 398 keywords this page ranks for.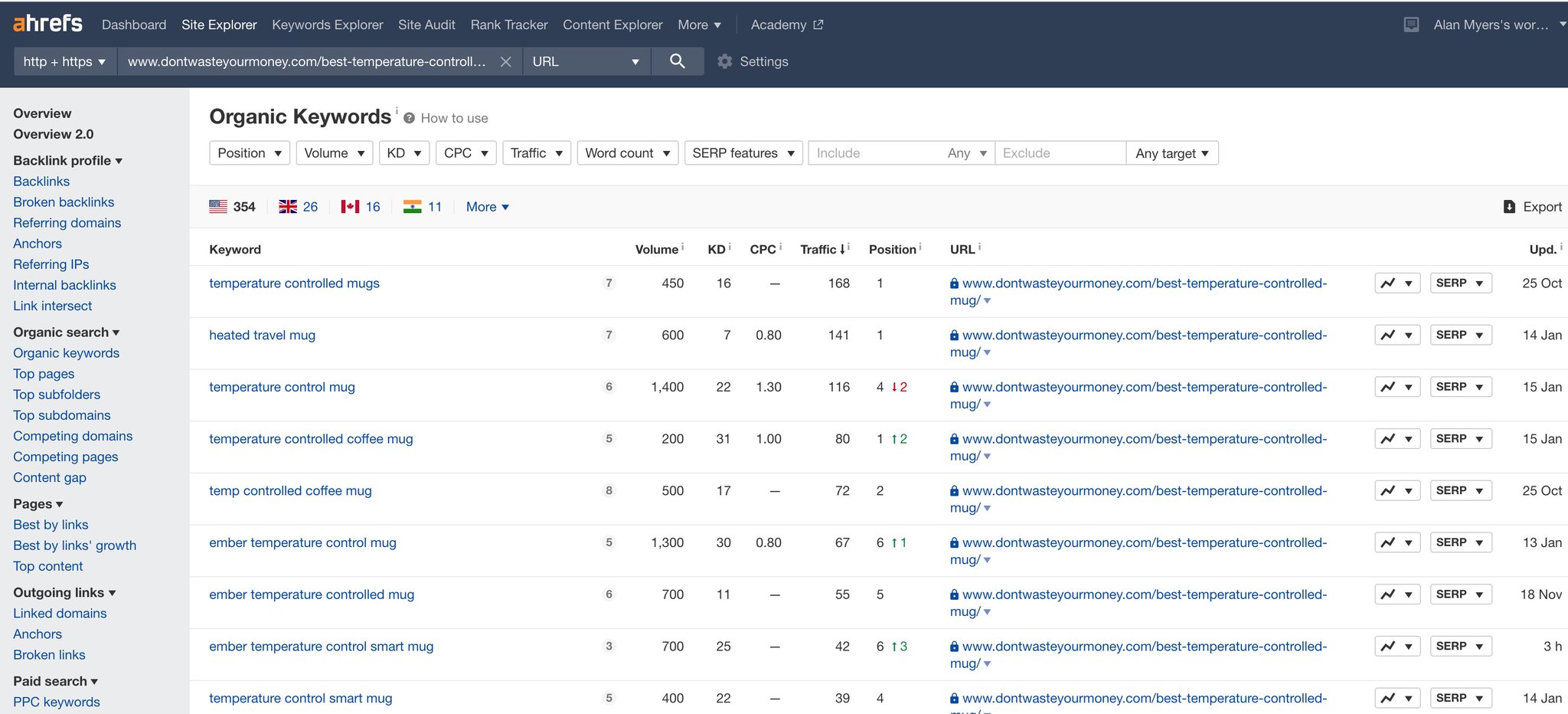 The most traffic this page generates comes from the keyword "temperature controlled mugs".
This keyword alone generates on average 168 visits per month and it ranks number 1 for that page.
Notice the keyword "heated travel mug" also ranks No.1 and drives 141 visits per month.

Notice the keyword "heated coffee travel mug" ranks No. 4 but it is a variant of our original keyword "heated travel coffee mug".
This keyword is generating 0.25 visits per month because it is ranking 4th.
Notice the difference in visits between position 1 and position 4.

I won't go through all 398 keywords, but I have just helped you generate a keyword list of almost 400 keywords from one competitor website.
Now, what do you do with these 398 keywords?
How would you write a powerful content page from those 398 keywords?
At the top right of this page, click Export.
You'll have a csv file of all 398 keywords.
To group these keywords into a cluster topic, you can use
@keywordinsights
for free for 750 keywords. You'll get something similar to this: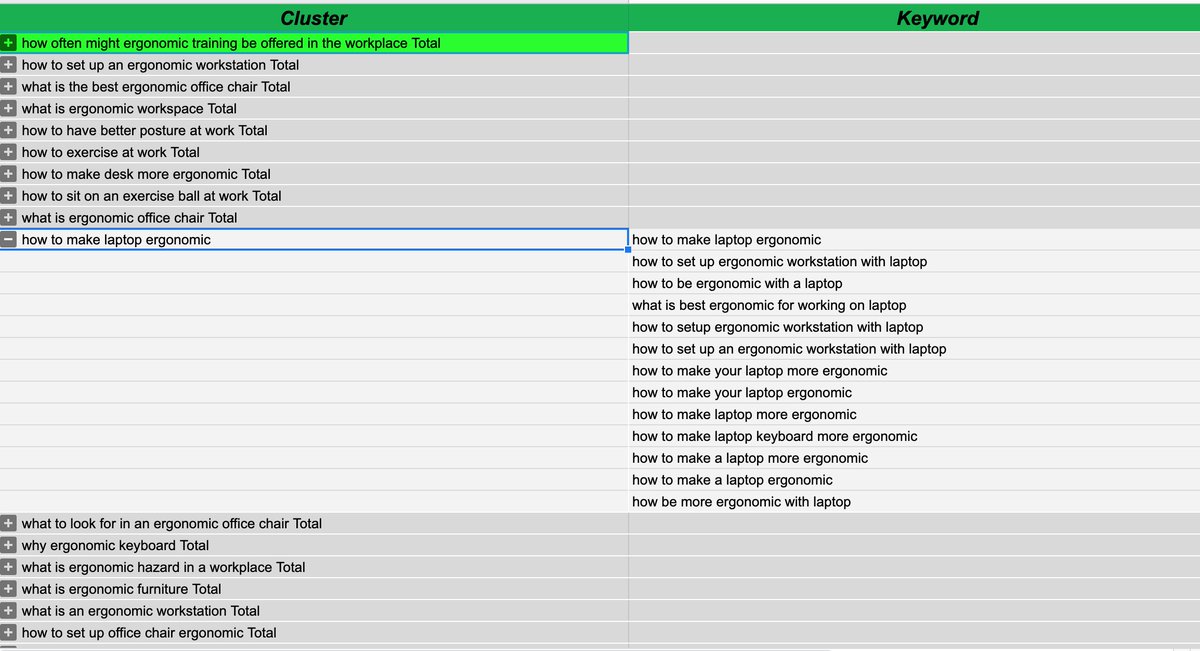 Keyword Insights have grouped your 398 keywords into a cluster.
Now, each cluster topic in this example is a section in the blog post, not a seprate blog post.
Because all 398 keywords are on one topic.
Usually cluster topics originate from seed keywords (coffee mug).
Now, where do you get 5 different products to compare and why would you feature 4 competitor products if you are selling heated coffee mugs?
Great question, because for this type of keyword, you are forced to write a comparison post to be able to outrank your competitors.
You will have to feature your competitors products, but you can also sign up for affiliate programs with these companies and earn commission on products featured in your comparison blog post.
If you notice in the example above, this website is featuring Amazon affiliate products.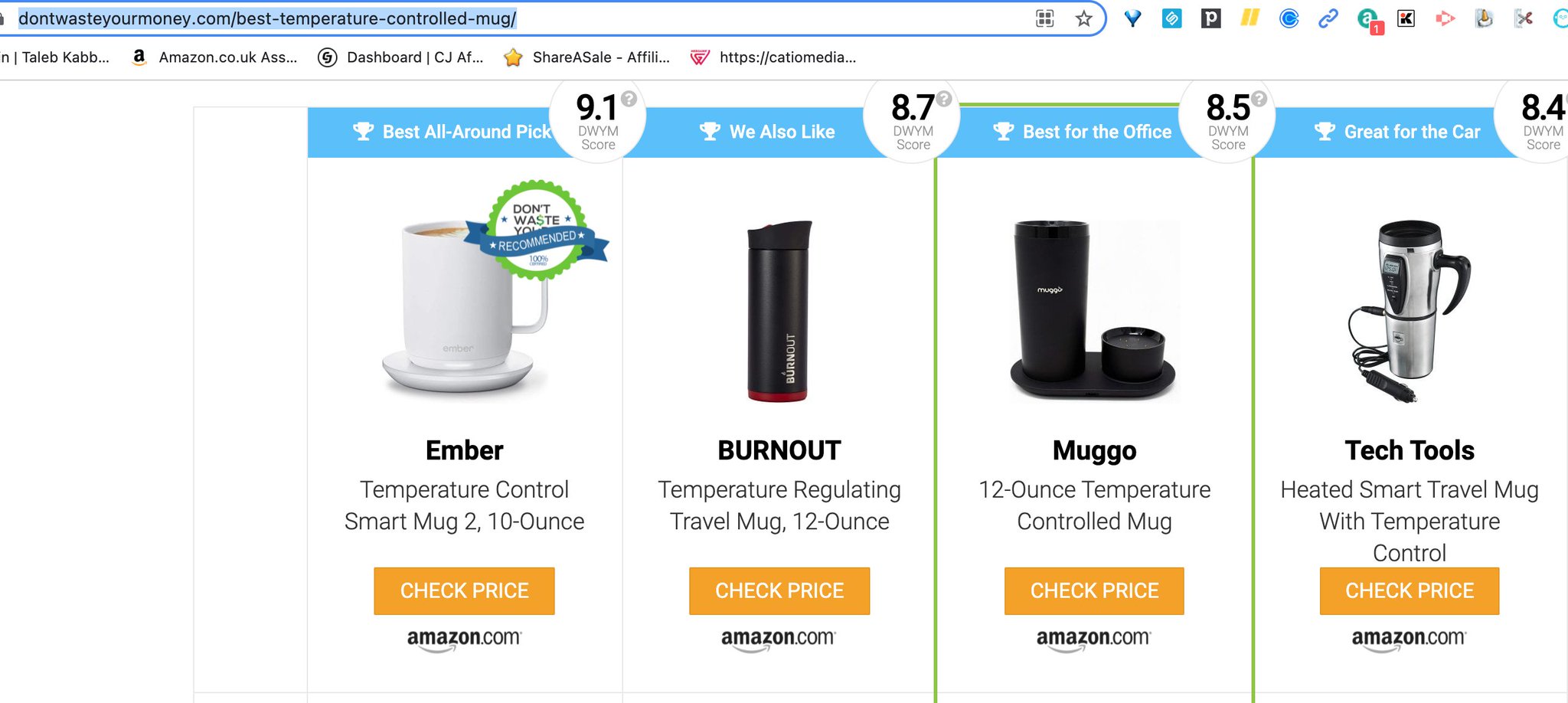 What if you don't want to feature affiliate products?
What if you want to sell only your product?
Then you'll have to look for an easy long-tail keyword that has a SERP of blog posts talking about one product.
Looking at the keyword "coffee mug sayings"
and looking at the SERPs, you can feature your coffee mug with 100 different sayings.
This way you don't feature competitor products.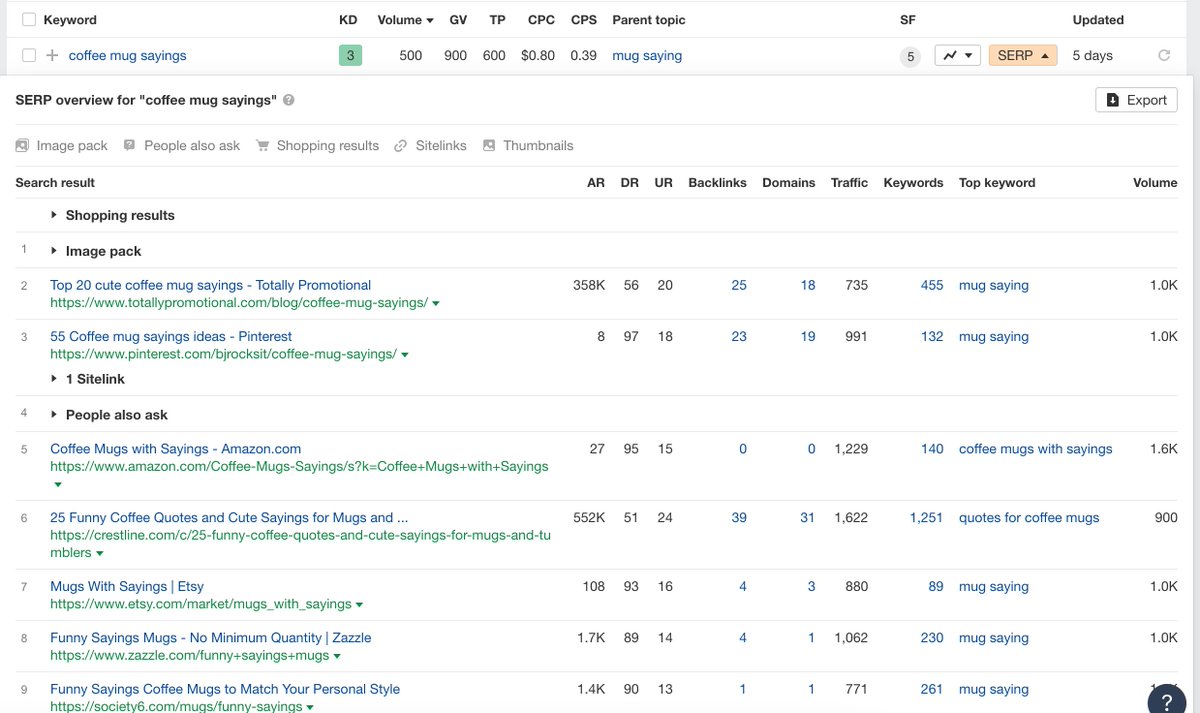 I think if you reached this far in this guide, you already got the gist of it.
If you need help with ahrefs or ranking, contact me.
Thanks again for reaching this far in the guide, i'm out.